Concept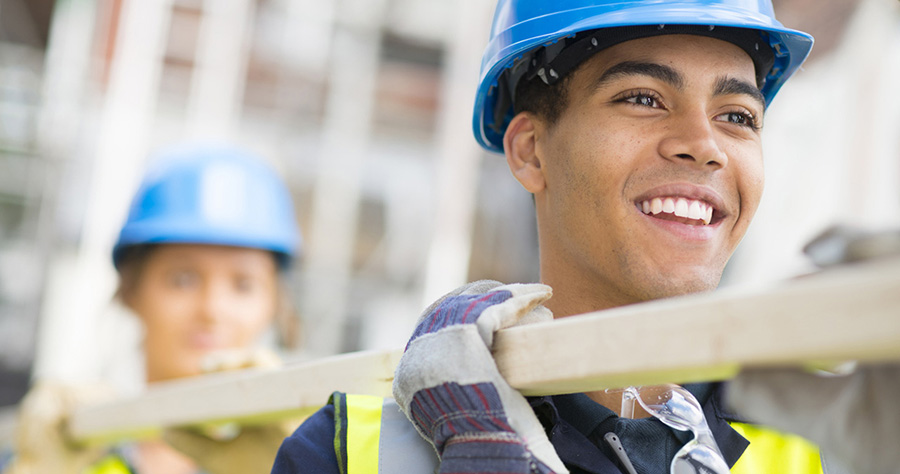 - OMOTENASHI Service -
We'd like to provide you the service which you want and we'd like you to love Ehime more.
Today, a lot of people come to Japan, also Ehime, from all over the world for various reasons, for example, for studying abroad, for business, and so on.
In fact, many people who come from different countries are in trouble when they look for their apartment.
Have you been in trouble to look for your apartment before?
We have a lot of experience that we introduced people to many houses, and we will make use of our experience. And we have special staffs who can speak foreign language.
We have a lot of skills to provide good apartments. Our staffs who speak English will support you to find your apartment smoothly.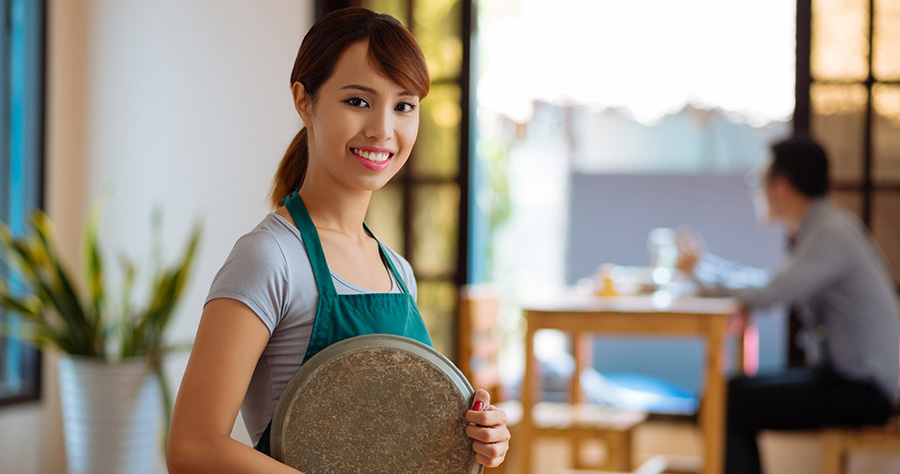 Moreover, we're going to offer "Special Contents in Ehime" from now on. We'd like you to know about Ehime more.
Ehime is very warmful and peaceful town. Let us help you to support living here.
All staffs will support your life in Ehime through the service which people need, for example, to look for your apartment or to get several service. We hope to support everything around you.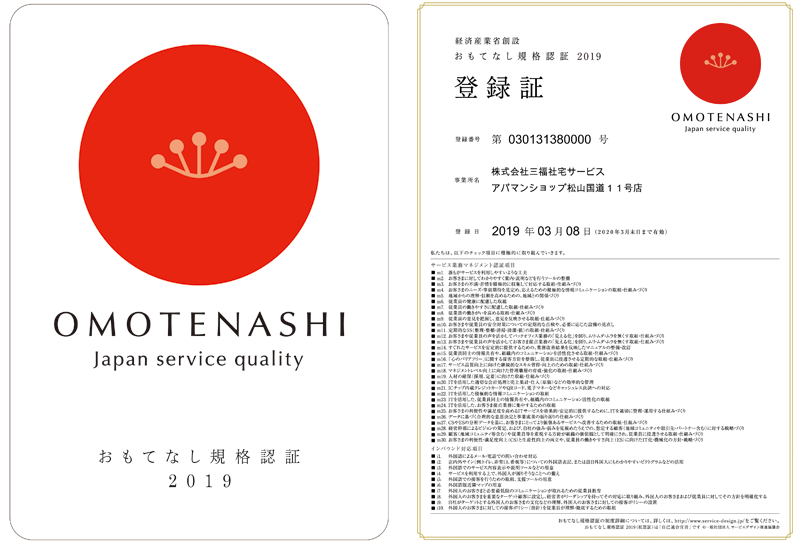 Service
FOR FOREIGN RESIDENTS
WHO WISH
We have a lot of service for people from abroad!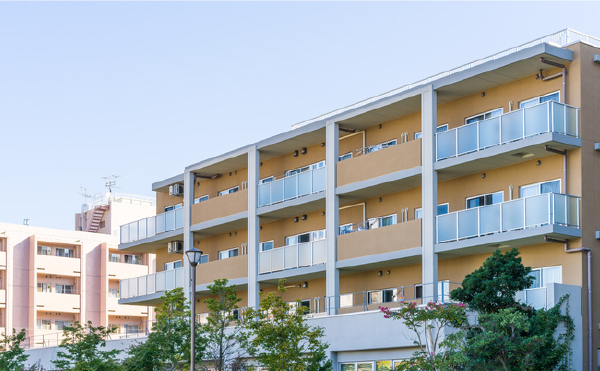 We have some apartments for only people from abroad!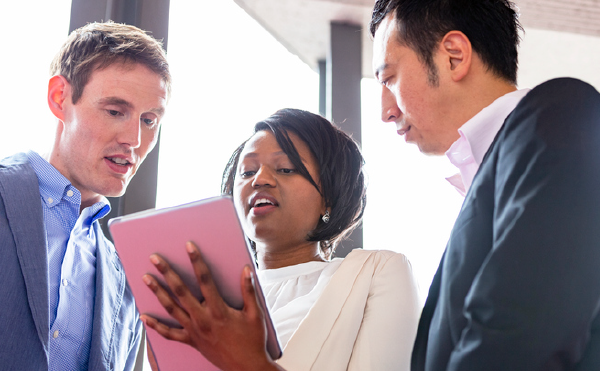 We have a lot of apartments with low contract payment.
If you want to save money about initial cost, feel free to ask us! We have a lot of apartments with low contract payment.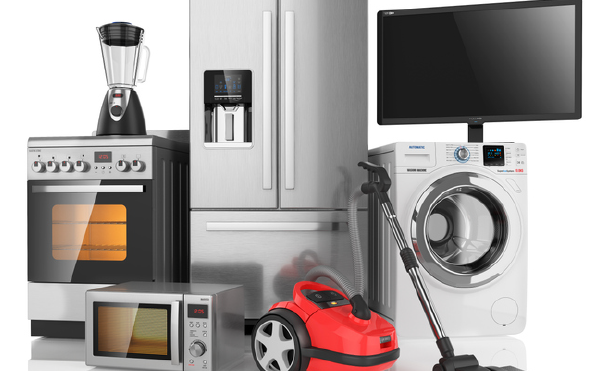 We have the special service to lend you some furniture and appliances.
It makes your cost down! You don't need to buy them!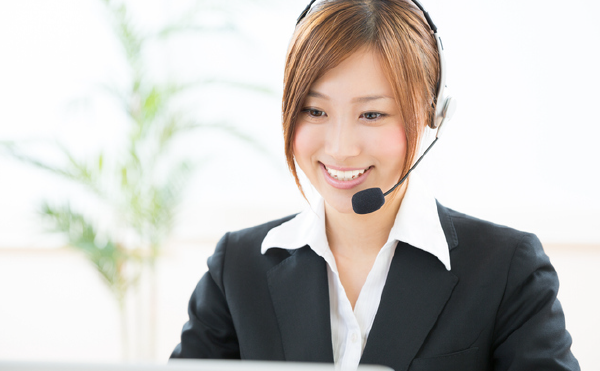 We have staffs who speak English and Chinese.
If you have any questions, feel free to ask anything you want!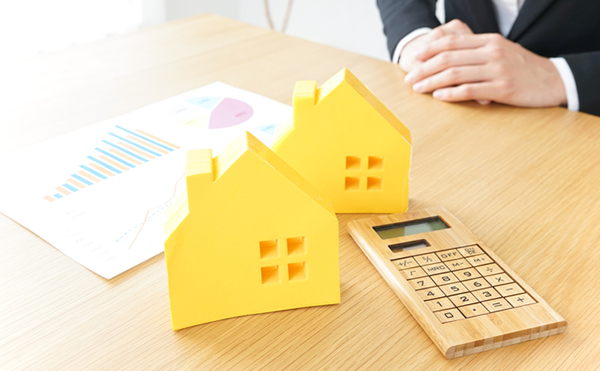 Customer Support for 24 hours
(A paid service)
We have different kinds of staffs in the customer support and they speak nine languages(English, Chinese, Korean, Portuguese, Spanish, Russian, Thai, and French). They can support you 24/7. If you are in trouble suddenly, they can help you.
I paid a lot of money to come to Japan.. I want to save money for looking for my house and initial costs to live.
Answer
You can count on us! We can offer you a lot of apartments with a price you hope. And we have some service to lend you some furniture and appliances. You can save your money and you don't need to pay much!
I don't speak Japanese very well. Is it OK?
Answer
It's no problem! The staffs who speak English and Chinese support you to look for your apartment. After moving into your apartment, you can contact to Customer Support anytime when you have some troubles. Our staffs who speaks 9 languages are there.
Find a Room
click the area that you want to see.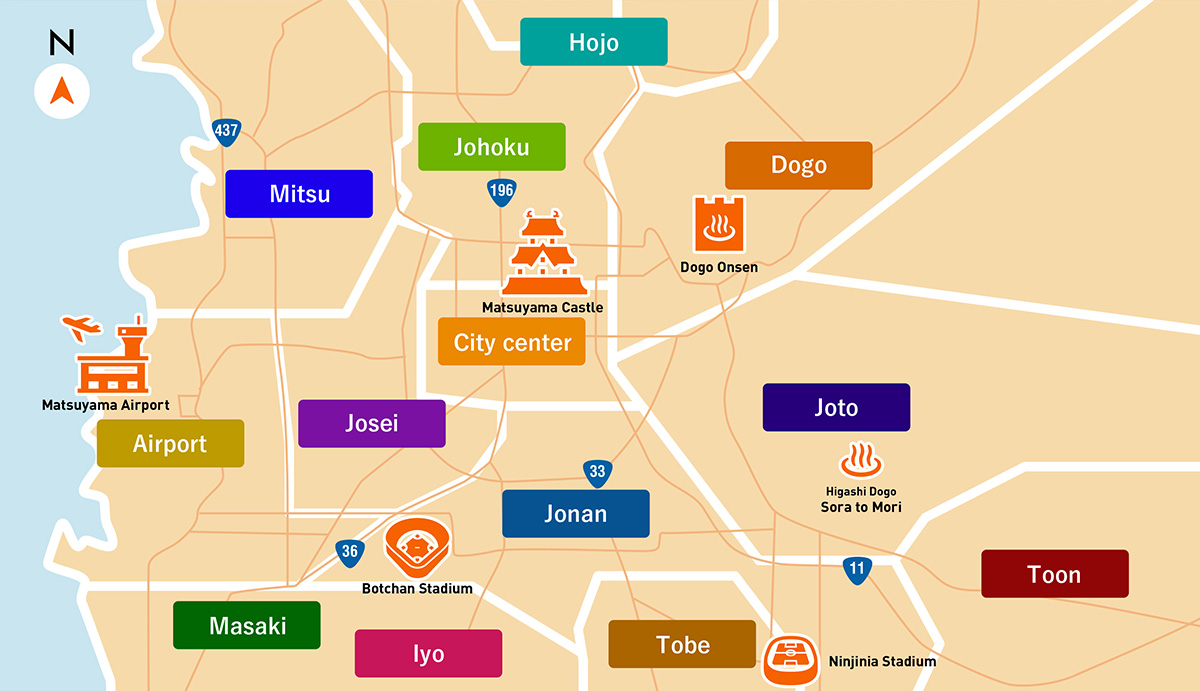 Special Contents
Cycling and walking in "Shimanami" in 2019
Date : 2019/3/23-2019/3/24
Place : Imabari city
There are a lot of visiting points on "Shimanami Kaido". It has many bridges to connect to Honsyu. Each bridge consists of a road way and a pedestrian walkway. That enables people to enjoy the sea breeze as they walk or cycle across the bridge.
It's very popular event for exercise or sightseeing in Ehime. Why don't you join this event?
Cherry blossoms in Matsuyama Castle
Date : late March – early April in 2019
Place : Matsuyama city
Many people come to Matsuyama Castle to see "Sakura" every year. It's very famous place to see "Sakura". Since ancient times, the Japanese have deeply appreciated the beauty of them. Why don't you go and see them with your friends?
Let's enjoy "Ohanami"!
Spring festival in Matsuyama
Date : 2019/4/4, 2019/4/6
Place : Matsuyama city
"Matsuyama Haru Matsuri" is the most famous spring festival in Matsuyama. In this festival, you can enjoy many special events. The procession which was famous in the lord of Matsuyama Castle marches the center of Matsuyama city every year. Some people wear "Yoroi" , and others wear "Kimono". We called this procession "Daimyo-musya gyoretu". It is said "Regional lord's procession" in English.
Read more
Tobe yaki Festival
Date : 2019/4/20-2019/4/21
Place : Matsuyama city
This is a big event of "Tobe yaki". Tobe yaki is a specialty pottery in Tobe town. In this event, you can see and buy different kinds of Tobe yaki with low price. You can find dishes for meal, vase, crafts and so on. If you go there, you can also experience pottery making with wheel and underglaze painting. You can enjoy it!
Read more
Information of Ehime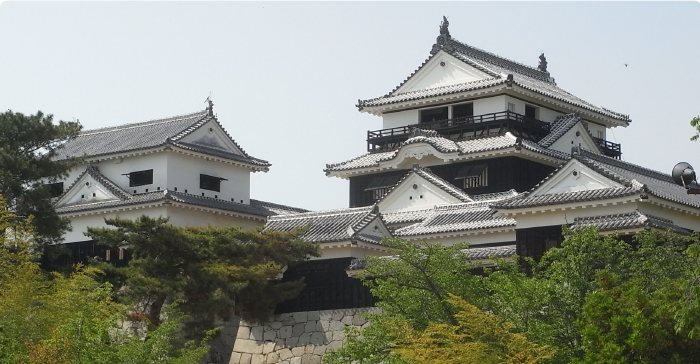 Matsuyama Castle
Matsuyama Castle is one of the castles which has a castle tower. It is made before the Edo era. and now, there are only 12 castles to have them. Japan has only 12 castles which made like Matsuyama Castle. You can see beautiful landscape from the castle tower! Why don't you ride a ropeway?
Read more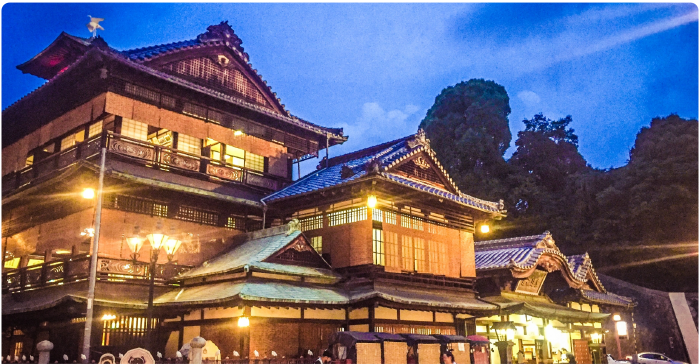 Dogo Onsen
"Dogo Onsen" is the most popular place in Ehime. It is supposed to be the oldest hot spring in Japan. It has two other onsens which called "Tubaki no yu" and "Asuka no yu". After taking an onsen, you can enjoy sightseeing and shopping around the Dogo-shopping- street. We're sure that you can feel relaxed and heal yourself.
Read more
Interview
Gregorio Rachelle Urian

(Residents)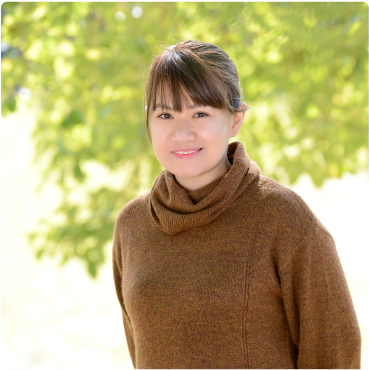 Q1. How long have you lived in Ehime?
A1.I have lived here for 5 years.
Q2. How do you feel about Ehime? Is it good place to live? Could you please tell us anything that you feel?
A2.The work environment is very good for me and I really like Ehime. The foods are nice! I had never eaten "Sashimi" before, but now, I really love it!
Q3. Why did you visit "Sanpuku Syataku Service" ? ( How did you find out this service? )
A3.When I came to Matsuyama, my friend had lived there. So when I had some troubles, I immediately asked my friend, and she taught this service to me. The staffs were so kind and they relieved me. I really like them!
Q4. Some people are thinking about living in Ehime. Could you please give them some recommendation?
A4.Ehime is a very comfortable city to live and the cost of living is low. You can remember the way or the roads easily to go anywhere that you want. I think Ehime is the good city to live and work for people who come from abroad.
Ms.Miyagawa emirose

(introducer)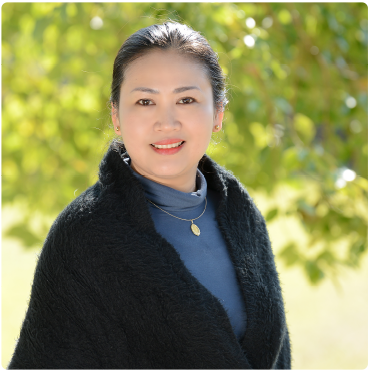 Q1. How long have you lived in Ehime?
A1.I have lived here for 14 years. I lived in Kochi before, and I moved to Ehime because of my husband's job.
Q2. How do you feel about Ehime? Is it good place to live? Could you please tell us anything that you feel?
A2.It is warm and it has good transportation. I can do anything that I want here. It's very comfortable. Fortunately, the disaster, like a typhoon, seldom approach Ehime. People are so kind! So when you get lost, everyone help you to get where you want to go.
Q3. Why did you let someone who look for a house introduce
"Sanpuku Syataku Service" ?
A3.When I lived in Ehime, my friend recommended that I used this this service. Then I realized that every staffs helped me whenever I had some troubles. And then, I recommended this service to my friend who was in trouble at that time. I remember every staffs supported us as usual.
Q4. Could you give the people who are thinking to live here some advice?
A4.If you want to live in Ehime, I definitely recommend to visit "Sanpuku Syataku Service"! Every staffs will help and support you anytime! They will try to look for a house that you want with good area and also good price.
Staff
Kaori Sunada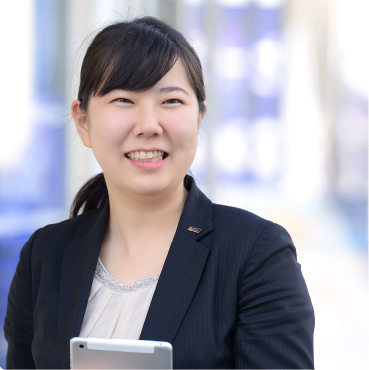 Q1. Could you please tell me about your job?
A1.My job is to show good properties to people who want to view them in Ehime. I take a lot of pictures and movies of our properties in order to show them guests. I'm always thinking about what apartments are comfortable and fashionable. Furthermore, we join many communities called "Toastmasters International", and some seminar that held by prefecture office or city office . I have an great opportunity to talk with people and to make a speech within 3 minutes in English. Everytime I learn a lot from that seminer.
Q2. Could you please tell me the most important things when you work?
A2.I try working harder to make our client happy. I hope to hear their needs and support them after being our clients for now. In fact, we got some troubles like below from our residents. "I can't set up the cable of the Internet." "I can't set a washing machine outside of the room." When such case occurs, we try to go and help our residents as soon as possible.
Q3. Could you tell us your recommendation areas in Ehime?
A3.I recommend "Ashiyu" in Dogo. "Ashiyu" means the hot spring for feet. You can find "Ashiyu map" anywhere in Dogo. It leads you to a lot of "Ashiyu" places and we're sure you can enjoy it and feel relaxed! There are a lot of sightseeing places in Dogo. Some people enjoy shopping and Dogo hot springs around there. Other people enjoy taking the streetcar(like a Trolley). If you go to Imabari city, we'll recommend you to go and see the shrine called "Ooyamazumi Shrine" near Shimanami sea road. It is very beautiful. And you can have "Kaisendon" near there. It is a sea-food-ricebowl.
Q4. Would you please give some advice to people who are thinking of living in Ehime?
A4.Everyone is so kind and friendly. Ehime has a lot of good places, so I hope that you enjoy everything in Ehime.
Contact
Please feel free to contact us any questions and inquiries.
Contact us here